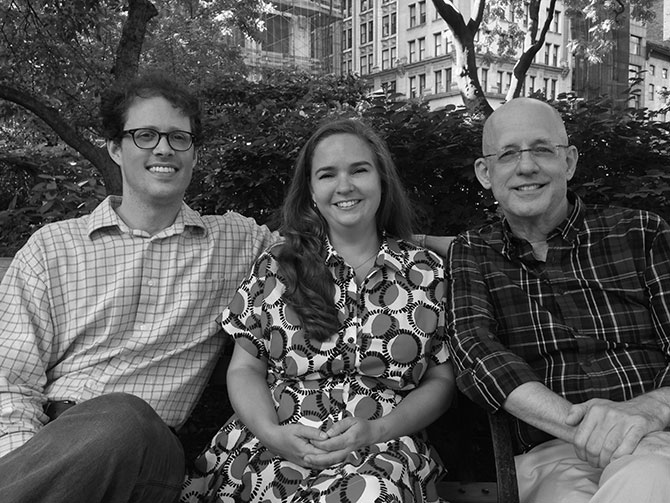 BIOS
Scott M. Ageloff, AIA ASID FIDEC CID
Principal
Scott Ageloff is a principal at Ageloff and Associates. Since 1977, he has practiced as an architect and interior designer with firms in Pittsburgh, Seoul, New Haven and New York City. Currently, he is a licensed architect in New York and New Jersey, and is a Certified Interior Designer in New York State.

Prior to establishing Ageloff & Associates in 1988, Scott was a project architect and senior designer in both large and boutique firms where he gained extensive experience in designing high quality executive offices, hospitality, retail, medical, and residential spaces. His professional memberships include the American Institute of Architects (AIA), and the American Society of Interior Designers (ASID), and he is a fellow of the Interior Design Educators Council (IDEC). He also serves as a member of the New York State Board for Interior Design within the Office of the Professions and is a Commissioner of C.I.D.A (Council for Interior Design Accreditation).

In addition to being a practicing architect and interior designer, he has been a design educator. He is the Founding Director of a graduate program in Interior Architecture and is the former Senior Vice President for Academic Affairs and Dean of the New York School of Interior Design (NYSID).

Scott received his Masters of Architecture from Yale University and his undergraduate degree with honors, from Carnegie-Mellon University. Prior to graduate school, he was a Luce Fellow during which time he was a working member of the Architects Group Forum in Seoul, Korea

Reid Betz, AIA, LEED AP
Principal
Reid Betz has been working on large and small projects in the field of architecture since receiving a Master of Architecture degree from Georgia Tech. His career began in Atlanta with design and management work on residential, institutional and commercial projects. He returned to New York City and worked developing environmental guidelines for the design, construction and operation of the Second Avenue Subway line. Reid joined Ageloff & Associates in 2003 bringing his experience in sustainable design to more modestly scaled high quality projects and quickly distinguished himself with his careful attention to detail and unfailing ability shepherd projects from start to finish with outstanding results.

Prior to graduate studies, Reid studied at the Cooper Union and received a Bachelor Degree in Civil Engineering with a focus on hydraulic design and water resources. He also worked with the EPA on a study assessing pollution levels in the Hudson River. With a strong belief that good design takes into account the responsible use of energy and resources, Reid has been a LEED accredited professional since 2001 and teaches in the graduate program in Sustainable Interior Environments at the New York School of Interior Design.

Erin Wells, ASID CID
Principal – Interior Design
Erin received her Bachelor of Fine Arts in Interior Design from the New York School of Interior Design with high distinction and a Bachelor of Arts majoring in history from Oberlin College. During Erin's time at NYSID she received numerous awards for her design work including the prestigious Angelo Donghia Foundation Senior Scholarship Award.

Erin joined Ageloff & Associates in 2002. Before joining Ageloff & Associates, Erin's combined interests in interior design, decorative arts and history, lead to the design of several independent projects, including a residence in New Jersey for which she travelled internationally collecting decorative objects and artwork.

Erin is a professional member of the American Society of Interior Designers and a New York State Certified Interior Designer. She teaches Residential Design at NYSID and serves as an Officer of the Alumni Council at the New York School of Interior Design. She also serves as President of the Board of Directors for The Wandering Samaritan, an organization that works on giving travelers access to adequate funds to help individuals, small groups, and organizations in need around the world.

Eric Paeper,
Senior Associate
Eric received a Master of Fine Arts in Interior Design with high distinction from the New York School of Interior Design and a Bachelor of Fine Arts from S.U.N.Y. Purchase. Eric's tenure at NYSID was highlighted with numerous awards and distinctions, and was a member of this nationally ranked graduate program's first graduating class.

ASSOCIATES
Kimberly Greve
Kimberly received a Bachelor of Science in Interior Design with honors from High Point University. Kim brings a tremendous passion and keen eye for design and the decorative arts to her work, awakened during her studies and a semester abroad in Florence, Italy and during her extensive travels to study many of Europe's masterpieces of architecture, design and art.